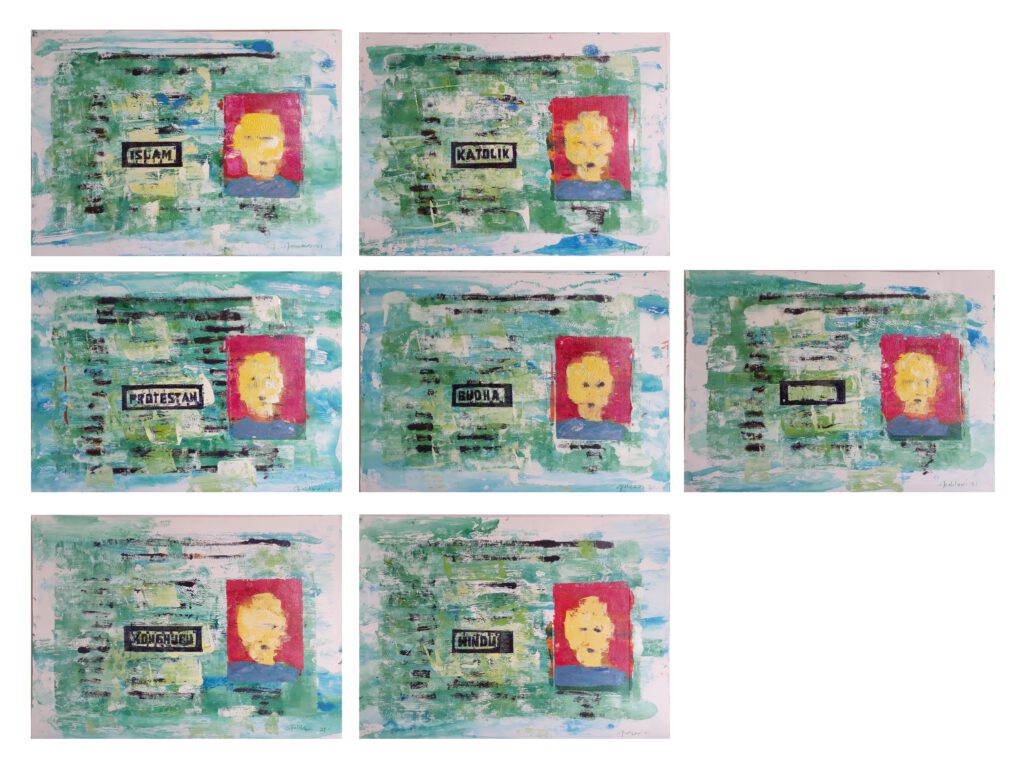 6+1 symbolizes the number of the 6 religions plus the belief systems (Ind.: kepercayaan) recognized in Indonesia. Among other things, this recognition is also reflected by the fact that the people's choice of religion or belief is registered in the column Religion on the ID card.
Believers must enter their choice of religion in the Religion column on the ID card. Followers of a belief system or another worldview may leave this column blank. Thus, everyone can know about the faith of the other, regardless of their religious belonging.
Indonesia is one of the few countries that still requires information about one's belief on every resident or citizen ID card. While the disclosure of information on personal belief was abolished in many other countries or never even existed. One of the reasons for this phenomenon is that Indonesia dictates the belief in the One God in their national ideology [Pancasila]. As a result, the state and the public is entitled to know the religion, belief or worldview of every citizen. In society, there are pro and contra opinions on this topic, but so far, the government holds to their opinion. The majority of believers, regardless of the religion or belief system they follow, supports this position.
In fact, it is well known that the political choice to include religious information on ID cards is often the cause of discrimination in daily life between followers of different religions and belief systems. Together, we should prevent this, in order to promote harmony between people of different religions and belief systems.
My present work aims to remind people of the problem that it is the state itself promoting discriminatory attitudes among followers of different religion and beliefs. The problematic social developments of this policy may not yet have been realized. Government and the leaders of religions and belief systems must continuously work very hard to install an understanding of religion and belief that is respectful of one another. Indonesia is huge and includes different cultures and religious and spiritual beliefs, which require common governance without reciprocal discrimination.
The work consists of 7 partial pictures that are replica of Indonesian ID cards.
Technique/material: Monoprint, woodcut on thick paper, which was glued to the wooden surface.
Size: 39 cm x 54 cm @ 7 boards.
Year: 2021
Display: hanging on the wall